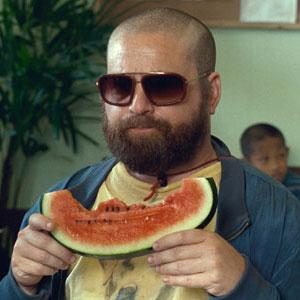 Hangover 3 Gets a Release Date!
Thu, 22 Mar 2012 07:15:00 PM PDT
Watch out, world. The Wolf Pack is going on a binge. E! News can confirm that key cast members Bradley Cooper, Ed Helms and Zach Galifianakis will reunite for The Hangover Part III after Warner Bros. has set May 24, 2013 as the release date for the trilogy-capper. Todd Phillips, who helmed the first two installments, will take the reigns again on the latest adventure. No word where the gang will get into trouble this time, but may we suggest Amsterdam? With The Hangover Part III staking out the usually profitable Memorial Day Weekend, Warner has opted to reshuffle its summer tentpoles, pushing back Guillermo Del Toro's alien invasion flick, Pacific Rim, from May 10 to July 12. The studio also simultaneously announced plans to unspool the long-awaited 300 Sequel on Aug. 2. The Hangover and The Hangover Part II combined have grossed more than $1 billion worldwide at the box office making a threequel a fait accompli. But, this is it, according to Phillips." We're going to surprise a lot of people with the final chapter we have planned," he said in a statement as part of Warner Bros' official threequel announcement. "It will be a fitting conclusion to our three-part opera of mayhem, despair and bad decisions."