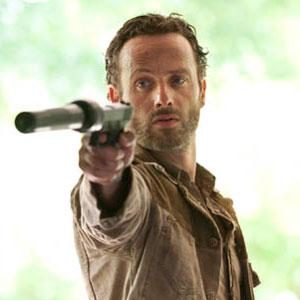 Spoiler Chat: Scoop on Walking Dead, Gossip Girl, How I Met Your Mother and More!
Tue, 09 Oct 2012 11:09:38 PM PDT
TV fans, we know what you've been missing: braaains! More specifically, zombies chasing after human brains on The Walking Dead. The third season of the AMC hit premieres this Sunday, so we wanted to celebrate with some scoop from one of the stars. And we answer a Gossip Girl question posed about a certain piece of jewelry someone is wearing. All that, plus Glee, How I Met Your Mother, Castle and more in today's Spoiler Chat… Tate: The Walking Dead comes back this Sunday, so what's coming at my face? Zombie blood, that's what! Seriously. Lots of death and gore in the season premiere. Want more specific scoop? Lauren Cohan is here to help! "[Settling into the prison] is not as easy as it seems. They have to hack their way into the prison." And don't think Maggie will sit on the sidelines during the bloodbath. "She's the same girl, but she steps up and takes action that she needs to take," Cohan previews. "She's definitely in there with the guys." Will in Los Angeles: In the Walking Dead comic books Glenn and Maggie have a baby. Will that happen this season? Spoiler alert! Geez, way to ruin things for us. Just kidding. We asked Cohan the very same question, actually. "We're not going to get that far along just yet, but we are going to see a really strong Maggie and Glenn," she says. Maybe season five? Danielle: Will the gorgeous engagement ring hanging around Blair's neck be playing a bigger part in upcoming episodes of Gossip Girl? Sorry to be the bearer of bad news, but the ring is going to stay pretty undercover, at least for the immediate future. The rock will remain under Blair's clothes and we're pretty sure no one else even knows that Chuck gave it to her. Anette: Hi! Big HIMYM fan here. I was wondering...will Robin actually say yes to Barney's big question immediately or not & in which ep can we expect that to happen? (got to prepare my tissues early) Thanks! Pack away those tissues for now, because that proposal will most likely happen much later in the season. Will Robin say yes immediately? First of all, what makes you think Barney will go all traditional and make it a yes or no situation for her? And secondly, Robin never says yes immediately to anything. Keep that in mind. Michelle: Any news on Brittany and Santana getting back together anytime soon or will they have new Love Interests? At least one of them will take interest in somebody else. But don't worry, we hardly think the new "relationship" will stick. Jarett in New York: I know you've seen the first two episodes of Happy Endings..so spill! You must be some sort of wizard to know that! Or you read our Twitters. Anyway, by the end of the second episode of Happy Endings third season, someone will have switched careers, Alex and Dave will have made a huge decision together that they may already regret, and Penny will discuss her Dave crush with Max. Oh, and there's a piñata fight involving fireworks, and it's as glorious as it sounds. Craig: My favorite couple on TV is David and Bryan from New Normal. Can I get spoilers on them? Get ready to meet the family! New Normal is currently on the hunt for a big name to play David's father, who's described as attractive, Jewish and was once quite the playboy way back when. But we won't meet him until episode nine. Bummer. Until then, let's play the casting game! Who do you think should play Justin Bartha's pop? Rsol90: Please can we get some scoop on Castle? Thank you A scene in the Christmas episode, titled "Secret Santa," will have a very romantic setup for Castle and Beckett. 'Tis the season for shipper heaven! —Additional reporting by Jenna Mullins and Tierney Bricker Want your TV questions answered in our next Spoiler Chat? Email them to tvdiva@eonline.com or tweet at @KristinDSantos!